Posted by Kim Brooks on 23rd Apr 2022
If you're like me, you can't wait for the first hint of fall to put on your favorite socks, however, this time of year, people are packing their socks away for Spring and Summer and their toes are out on display. More research is showing the importance of keeping those pig toes covered. People of all ages are donning alpaca socks in the warmer months and with good reason!
Why do we even wear socks in the first place?
Mom used to say that socks kept the whole body warm and there is science behind that. Interestingly, feet are the sweatiest part of the human body - each foot has approximately 250,000 sweat glands and they sweat regardless of the season, but more so in summer.
Feet produce up to 16oz of perspiration, or sweat, per day. Sweat is mainly water, and its main function is to control body temperature. As it evaporates, the surface of the skin cools. This is why your feet can get cold wearing Uggs or slippers without socks in any season - the shoes, boots or slippers get waterlogged with sweat, thus making your whole body cold.
Cotton (and even Merino wool) is super absorbent, and frequently you will hear about wearing absorbent socks to soak up your sweat, however studies show that that moisture laden socks create friction, making feet more susceptible to blistering and foot fungus, like athletes foot, especially in warmer weather. This makes the whole body feel uncomfortable.
Think of alpaca as the finest insulation, natural and antimicrobial, you can buy. The body regulates its own temperature better when it is well insulated- from cold AND warmth. Alpaca's thermoregulating properties insulate feet with pockets of air, while its moisture wicking abilities move sweat away by evaporation, not by absorption, keeping you at your finest, regardless of the weather.
Keeping feet dry with lightweight alpaca, which evolved over time to thermally insulate and wick moisture, not only keeps our temperature better regulated, but also reduces friction, preventing blisters and callus build-up, odor, bacteria and more.
Raise your hand if you are one of those people who put on their sandals on in the spring and end up with a big fat blister. Swelling occurs in feet and ankles in warm weather because of the bodies' natural cooling processes. This causes shoes to tighten, rubbing and ultimately, creating blisters. Alpaca Compression socks can help avoid swelling by providing increased support, reducing the amount of fluids in ankles and feet while brining the aforementioned valuable properties of alpaca wool to the party.
Flip-flops, perhaps the most common sandal in the summer, have a whole host of issues and while alpaca socks can't solve them all, they can solve many. First, who has a man in their life that should NOT show their feet and toes? Case closed. Besides that, flip-flops or any ill-fitting or unsupportive shoe can cause corns by putting pressure on hot spots most commonly toes or boney protrusions. Alpaca socks reduce hot spots and pad bones that may only be covered by thin skin.
Outdoor Alpaca Socks WOD1 Alpaca Compression Socks WCCS

Poor arch support is the leading cause of Plantar Fasciitis. Flip flops in general have minimal arch support, which over time aggravates the tissue that connects your heel bone to the base of your toes. Wearing alpaca socks that have arch support and a cushioned, terry lined footbed, protects these tissues.
Crazy as it seams, wearing socks with sandals and tennis shoes, is popular again. Socks on Summer feet out in the wild are no longer condemned as backward, rather it is a real fashion accessory. Summer is the best time to show off your pretty patterned, lacy, and even athletic alpaca socks. This year the menswear fashion looks encourage what was, just a few years ago unthinkable - sports sandals and thick socks!
Lace Trimmed Ankle Socks - Waffle Knit WAF1.5 Old School Thick Knit Athletic Alpaca Socks Ragg Wool WOS2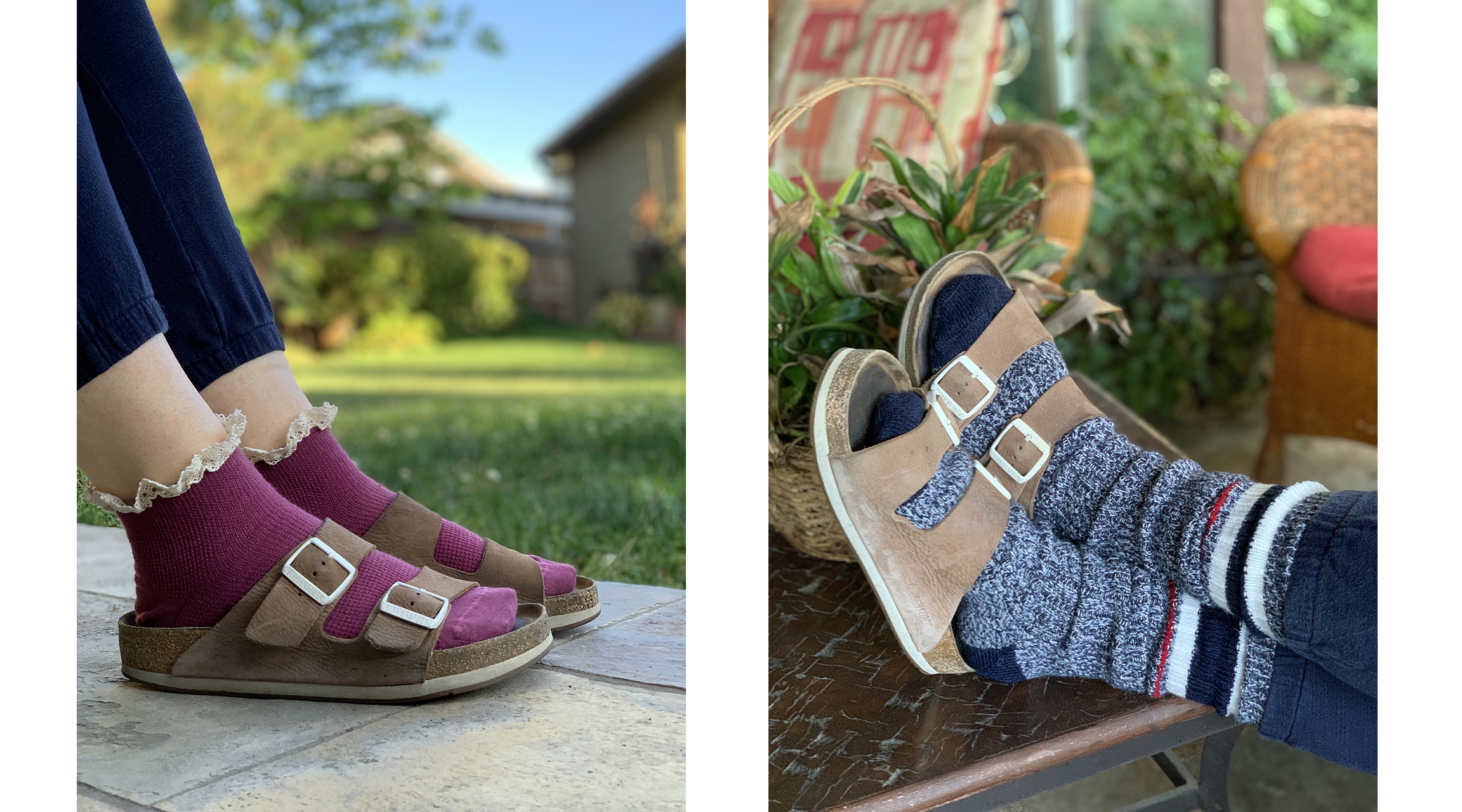 Not everyone wears sandals in warm weather; men and women in corporate jobs, labor intensive workplaces, even hospitals and warehouses have to wear enclosed shoes regardless of season. Now the "sock-less" look is common, but far from practical. In the summer too much moisture creates bacteria and odor leading to foot issues, smelly and often ruined shoes. Alpaca No-Show liners can erase the displeasure of a sock-less lifestyle, while lighter weight over the calf alpaca socks can really improve your comfort while wearing boots or work shoes in the summer.
Alpaca No Show Liners WGT0/N14 Diamond District Boardroom Alpaca Socks WMD2-4

Thin alpaca wool dress socks are perfect for summer since there is nothing better at wicking moisture away from sweaty feet. Rather than allowing your sweat to lay in shoes it evaporates with no odor. Alpaca is antimicrobial so bacteria and odor don't grow. Wool allergies? Alpaca socks are hypoallergenic, and safe for everyone to wear. Unlike merino wool socks, the ultra-soft fibers Warrior uses to create their alpaca socks glide smoothly over feet, never causing an itchy sensation.
Skin cancer is the most common cancer in the United States and current estimates predict that one in five Americans will develop skin cancer in their lifetime. Our feet, hidden away the bulk of the year, have little protection from the suns rays, even if we think to douse them in sunscreen - do you really remember to reapply? Most people don't even realize they are getting sun on their feet until it's too late.
Many of us don't think of socks for the summer because our experience is that socks keep feet warm. We should however reconsider that when it comes to Alpaca Socks, they will keep your feet insulated. Well insulated feet in the winter keep us warm, and in the summer, they keep us comfortable, lowering our temperature, improving hygiene and providing a myriad of other good foot health benefits.
If you've ever had a foot injury you'll agree that feet need to be protected from the vulnerabilities of the outside world. Foot issues make us pay with every step. To avoid all these worries, what could be better than a sock? There are so many different Warrior Alpaca Sock solutions for your summer feet. Nothing is more important than how you feel and allowing yourself to put your best foot forward.